Woman
Man
Couple
Let AdultHookups.com help you find the best lubricants for your sex toys.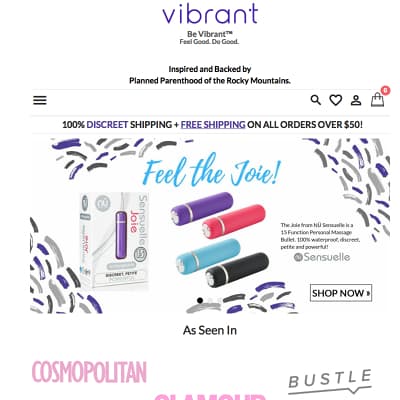 BeVibrant.com
BeVibrant.com wants to help you find the perfect lubricant to use with your sex toys and also with your partner. They have all kinds of lubricants like silicone-based, water-based, hybrid, and lubricants for anal. When you first visit, you'll find a list of featured products but you can also use the search filters to find things. If you don't know where to start, try searching for the newest or best selling lubricants.
Discreet and free shipping available
Find out how their sex toys work in the live chat
Search based on material, price and brand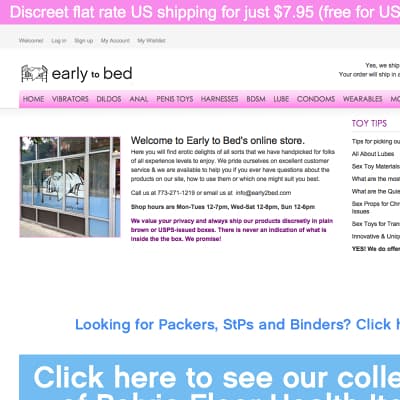 Early2BedShop.com
Early2BedShop.com is all about keeping sex safe and fun which is why they stock items like lubricants along with their adult sex toys. You can get flavored and un-flavored lube, depending on what you're using it for. Their lubricants are primarily water-based and are easy to clean up. Make sure that you check out the different types of lubes that they have online and pick a few different ones to try out.
Lubricants are usually cruelty-free for guilt-free play
Write and read reviews about their sex toys and accessories
Events and education programs available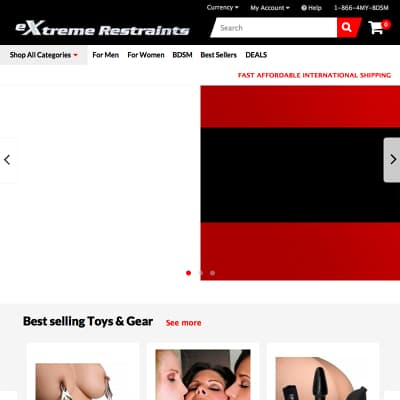 ExtremeRestraints.com
ExtremeRestraints.com has a ton of things that can improve your sex life and make using sex toys more fun. This includes a selection of lubricants and creams from popular brands. You can search by brand or type of lubricant to find what you want. You can also look at the top sellers or just the newest arrivals. There are pros and cons for each one so make sure you read the product pages and guides to learn which one is better.
Sex toys ship fast internationally
Demo videos and product guides available
Over 16,000 certified reviews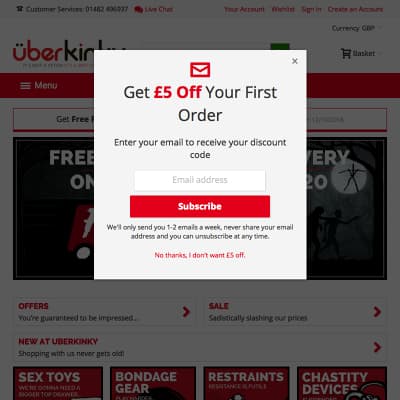 UberKinky.com
UberKinky.com wants to keep sex fun with their range of sexual lubricants. They can make sex better with sex toys and with your partner. They have reviews to hear what other customers who bought these lubricants with their sex toys have to say. The site also has guides that teach you the best ways to use a lubricant so that you can get the most out of your purchases.
Pay for your sex toys in different currencies with the exchange rate
Deals and discounts available on certain products
Standard, next day and international delivery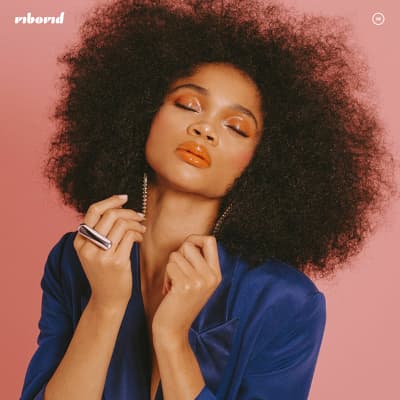 UnboundBabes.com
UnboundBabes.com is the perfect site for modern sexual women to find sex toys, accessories and lubricants. Their lubricants are meant to be used to help you achieve orgasm faster and make your sex life more satisfying. They have "Clitorial Jolt Gel" and "O.M.G-Spot Stim Serum" which have special ingredients that increase the size and sensitivity of your most sensitive areas. It's great for solo or partner play as well!
Water-based are safe to use with lubricants sex toys
Lubricants are made of natural ingredients
Live chat with customer service to get your questions answered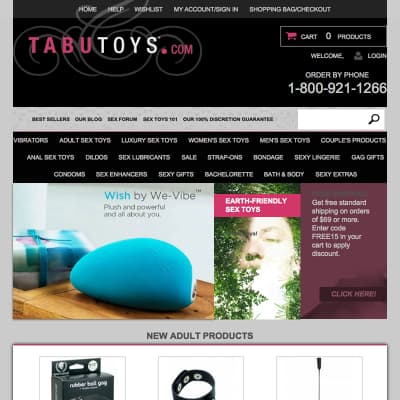 TabuToys.com
TabuToys.com is a great site for anyone who's looking to spice up sex with sex toy lubricants. They have both personal and anal lubricants and other types of liquids that makes your life satisfying. They even have lubricants that are 100% vegan so that you can enjoy yourself without feeling guilty. You can also filter through the lubricants using their allergy info for people who have sensitivities.
30-day return policy on sex toys
Search for lubricants by price
Stay up to date on the latest news and products on their social media pages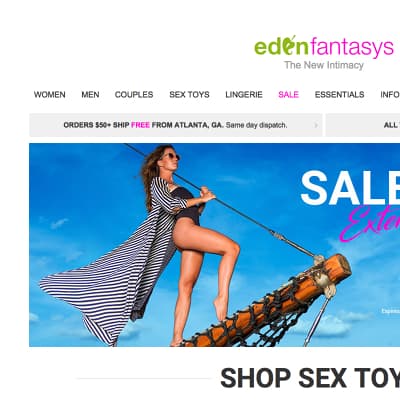 EdenFantasys.com
EdenFantasys.com has a number of different lubricants that they recommend on their sex toys. You can find information about their products including texture and ingredients. They even have information about the different types of lubes and what sex toys they can be used with and how to use them during sex. You can even find lubricants that tingle, warm up or numb the body so you can get the right sensation that you want.
Find sex toys lubricants based on popularity and manufacturer
Different flavors of sex toy lubricants
Helpful articles and advice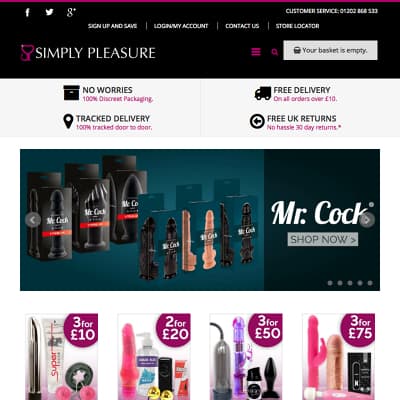 SimplyPleasure.com
SimplyPleasure.com has tons of sex toys accessories and tools. There are a few different choices if you want to find sex lubricants to make things smoother. You can also find flavored lubricants like kiwi strawberry, raspberry pomegranate, and juicy watermelon. They are great to use with a partner but you can also enjoy them on your own with your toys. Most of their products ship as soon as you order so you don't have to wait.
Special offers and discounts on some sex toys
Different sizes and flavors of lubricants
Fast and easy shipping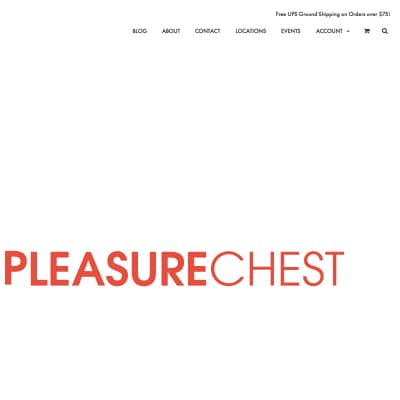 ThePleasureChest.com
ThePleasureChest.com has a good selection of sex toys lubricants from popular brands like Sliquid and Uberlube. They have their own brand of lubricant. It's glycerin-free and water-based for a non-sticky and a not too thick texture that can be used with all your favorite sex toys. There are different bottles of lubricants so you can find the one that you want based on what you're using it for.
Get notified of sales and events when you sign up
Video about the best personal lubricant to use with sex toys
Find related products when you shop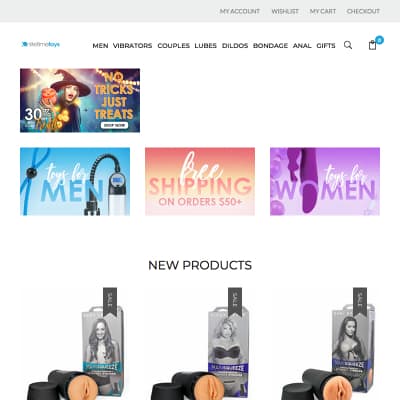 NiteTimeToys.com
NiteTimeToys.com has a good range of water-based and silicone-based lubricants that are safe to use with sex toys or fingers. They add just the right amount of lubrication to make things slide easier and feel better. On top of their basic lubricants, they also have warming lubes to stimulate your body. The flavored lubes they have are best for oral sex but you can also use them for other things.
Sort sex toys lubricants by price, manufacturer or color
Create an account for personalized service
Find out how many are in stock before you buy